Transitioning from hospital care back to home life can be difficult. After hospital care services bridge the gap between professional medical care and recovery at home, allowing you to focus on what's most important—rest, recovery, and rehabilitation.
After hospital care encompasses a range of healthcare treatments, wellbeing adjustments, and other services that help people adjust to life post surgery. By outsourcing these services to clinical and care professionals, rather than relying on family members, care recipients can enjoy a faster recovery.
Are you looking for comprehensive after hospital care services? Absolute Care & Health offers a holistic range of post surgery home care services. For the highest levels of care, supported by years of experience and industry knowledge, look no further.
1. Healthcare services
After hospital care begins with high quality nursing. Post-surgery nursing is the conduit between hospitalisation and full recovery, giving patients access to quality services in the comfort of their own home—an absolute necessity on the road to recovery.
Comprehensive at-home nursing services include nurse assessments, wound care, cervical collar care, sutures and staples removal, continence care including catheter changes, medications, and injections.
Our nurses can assess your care plan and if needed, liaise with your hospital or GP to ensure the care we provide is aligned with any other treatment you are receiving.
While family and friends can be a great support, it can speed recovery and ease the burden to have the professional support of qualified nurses and personal care attendants at your service.
2. Wellbeing adjustments
Facilitating your physical recovery is only one part of the healing process. Your mental and emotional wellbeing is just as important, and can help you recover faster. After hospital care services can be tailored to offer you support outside of medical assistance.
Your mobility and transport around the home and local community can help you get in touch with your life before your hospital stay.
Home modifications can make everyday tasks like bathing and using the bathroom much easier on your body as you recover.
As always, it is important to reach out to your close family in your time of need. While our after hospital care nurses and personal care assistants help you get settled, your family can help you get back to your normal life once again.
3. Household tasks
It's the little things that help you recover. Your time in post surgery home care should not be taken up by everyday, mundane tasks. Your road to recovery can be made shorter by spending more time focusing on yourself, and outsourcing household tasks to a dedicated carer.
Household cleaning and laundry are essential, daily tasks that can offer you a greater quality of life and increased wellbeing at home.
Cooking and meal preparation can ensure that you have readily available, nutritious meals tailored for your condition and recovery.
Extra tasks, like gardening and grocery shopping, can be physically demanding, and should be outsourced where possible.
Close relatives and friends are great at helping out around the home during your after hospital care period. However, they may not always be available to help out with the everyday tasks that are so critical to running a home.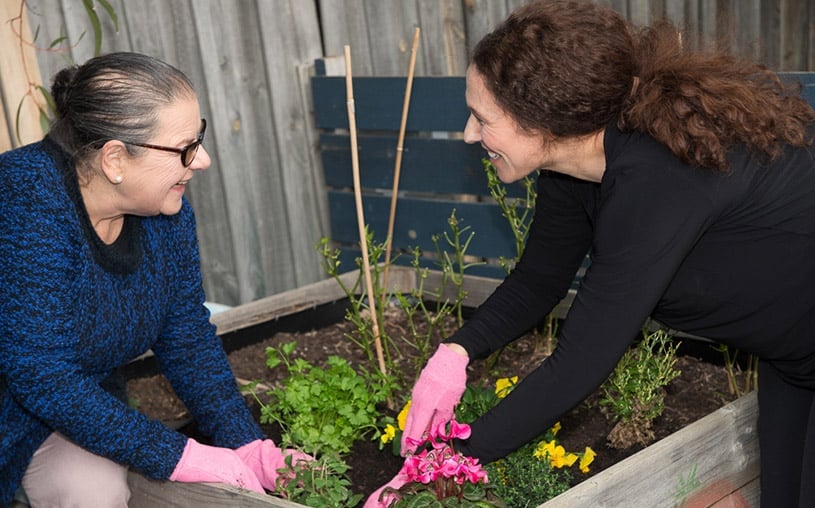 4. Tailored care
When it comes to recovery, the best results come from a holistic approach. At Absolute Care & Health, we want to ensure that all care recipients, regardless of their post-surgery status, can expedite their recovery. This means providing a well-rounded service that caters to all patients.
Registered nurses perform all nursing services, including post-acute surgery care, wound care, and the management of medications and injections.
Personal care assistants (PACs) can offer support around the home, including personal care, transportation, home help, and domestic support.
Other holistic care services include respite care and 24-hour comprehensive care. If you seek after hospital care, it's important that you communicate your needs and ensure that they are being put first.
5. Paired caregiving
Facilitating your after hospital care means ensuring that you are comfortable. An important part of this is finding a caregiver that you are comfortable with. To assist the process for all parties, caregivers should be matched directly to your personality.
Caregivers can be designated based on an array of factors, including language needs, shared interests, LGBTIQ awareness, and many other factors
Multilingual caregivers can offer a greater cultural understanding and language support to care recipients.
If a care recipient has a preference for male or female caregivers, this can be factored into the selection process.
Finding the right caregiver is an ongoing process for care recipients. By working with your family, you can find a solution that not only helps you recover, but makes you feel comfortable at all times.
6. Healthcare partnerships
As an industry leading healthcare provider, Absolute Care & Health is committed to working with our partners to deliver the highest level of patient-centred care. By forming strong bonds with families, healthcare professionals, and other stakeholders, we aim to create care plans that offer greater support to all.
We work with hospitals, clinics, and communities to manage patients and provide tailored after hospital care on a case-by-case basis.
We are registered with the Transport Accident Commission (TAC) to provide personalised care for patients who have been involved in road incidents.
By partnering with your other healthcare providers, we can make your transition back into home life as smooth and carefree as possible.
The steady road to recovery starts with after hospital care. Absolute Care & Health will manage your post surgery home care with professionalism, experience, and most importantly, the care and attention it takes to help you feel better again.